Our Commitment to Quality
Cutting Edge Testing Procedures & Machines to Test the Best Roofing Products.  
Our unfailing commitment to quality – all raw materials are tested for integrity before being processed. After the manufacturing process tests are conducted again, to assure the integrity of our finished products.
 Assures raw materials compliance to tensile strength of 80,000 PSI
2. Base Metal Thickness Test
Assures raw materials compliance to thickness
These tests assures APO Galfan's compliance to various International Standards
monitors the weight of the Galfan coating
2. Coating Mass Composition Test
ensures the 95% zinc & 5% aluminum alloy composition
3. Reverse Impac & T-Bend Test
 assures that the Galfan coating meets superior adhesion qualities.
Physical tests conducted for Paint's Dry Film ( After processing in the CCL, all prepainted coil are tested.)
1. Reverse Impact & T-Bend Tests
 are the ultimate tests that ensure paint adhesion & flexibility.
2. Paint Inspection Gauge & Micrometer Test
ensures the desired paint thickness is achieved.
3. Accelerated Weather & Environmental Exposure Test
Determines total Paint performance in different weather.
4. Chemical Resistance & Solvent Resistance
are reliability tests that monitors and evaluates the reaction of the Total Paint system when exposed to various hazardous & chemical environments.
4. Gloss meter & Hunter Lab UV Test
ensures the aesthetic consistency of the painted product for its designed life cycle.
Local and International Tests done to prove the superiority of Galfan® over normal GI & Galvalume
Industrial Technology Development Institute-Department of Science and Technology
5 year actual corrosion performance test conducted by ITDI-DOST.
Samples of GI (Galvanized Iron), Galvalume, and APO Galfan® were exposed to the elements for 5 years.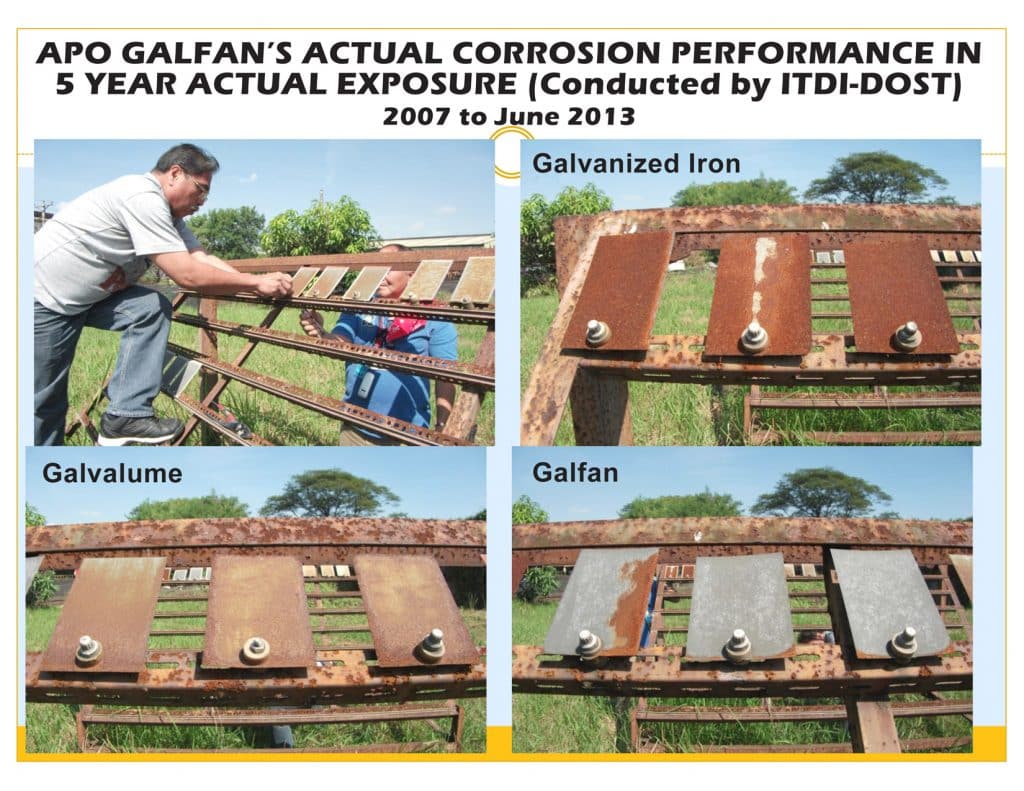 Bronx International Australia
Is a Coil Coating Line Solutions from Australia, producing GI, Galfan, and Galvalume coating line machines.
They did a comparative study and released a paper: Galfan® – Low Cost, High Performance Metallic Coating which highlights the benefits of Galfan over other coatings such as GI and Galvalume.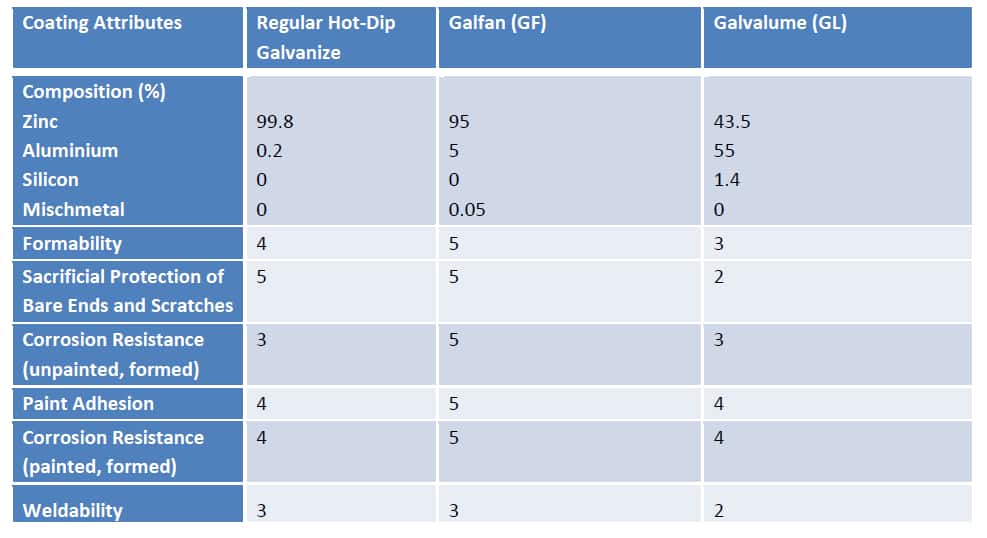 Corrosion Test Conducted in Japan
A 1000 Hour Salt-Spray Exposure Test was done by Nishin Steel of Japan.  The Tests show that Galfan® has superior corrosion resistance among other types of galvanized steel coatings such as GI (Galvanized Iron) and Galvalume.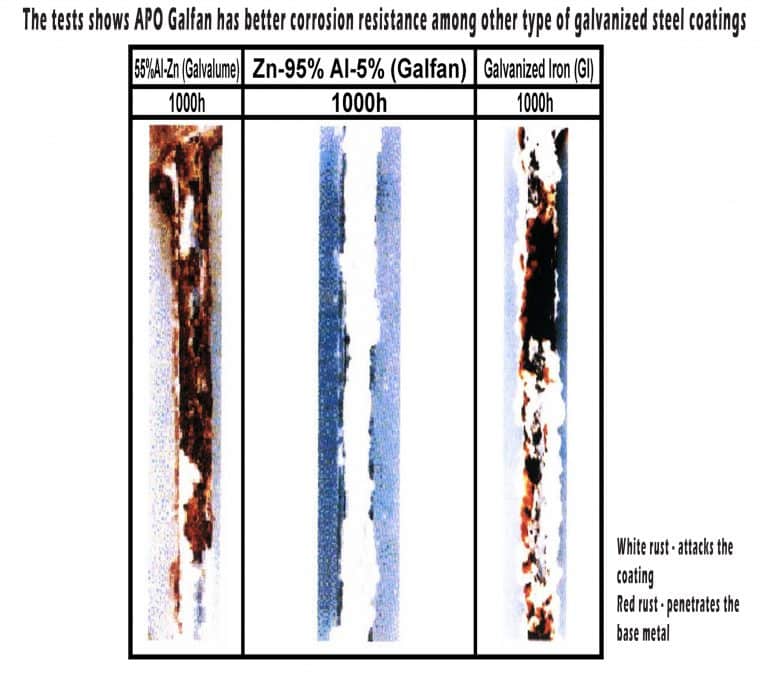 A Sample of GI (Galvanized Iron), Galvalume, and APO Galfan® was taken and bent at 180° to mimic the stress applied to the galvanized coating during bending or performing.
After the test, GI and Galvalume both had severe existence of microscopic cracks on the coating.  For APO Galfan® had no signs of cracks. 
This proves the superior adhesion and flexibility of Galfan coating to the base metal even under extreme bending pressures giving the strongest corrosion resistance.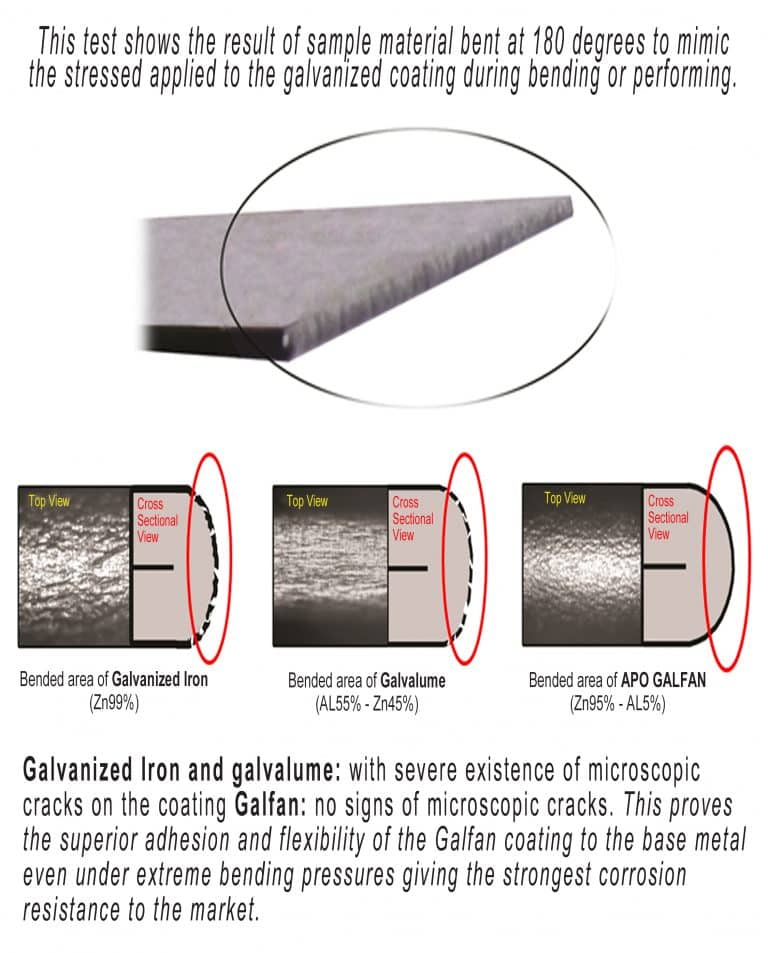 Find the Nearest APO Galfan&reg Dealer
Got Questions?
Drop us a message using the form and we will get back to you.
You can also reach us via: